'A' Rated Windows
Sunrise Windows will always use A-rated windows when fitting new windows into your home or property.
Sunrise Windows has always insisted on using the finest materials available, for example:
For the all-important spacer bars, we now use a new thermal bar, which removes the chance of internal conductivity which can lead to condensation.
For all our windows we use exceptional low emissivity glass such as Pilkington KS.
Although there are different specifications for different systems – the guidance below is typical for an "A" rated PVCu window:
'A' Rated
For an A rating, a window has to be manufactured slightly differently, we have to make sure that a special thermally efficient re-inforcement is inserted in the main chamber in the outer frame only, this is to enhance the thermal efficiency of the frame.
The Standard Glass Configuration for an "A" rated window is:
Inner pane = High-performance low emissivity glass such as PLANITHERM or Pilkington KS
Cavity = Argon gas filled cavity
Spacer bar = New Thermal spacer bar
Outer pane = Low iron glass or standard glass
Also, the spacer bar (the bit around the edge which separates the glass) is no longer made using a silver aluminium bar – we now use a thermal bar or a "super-spacer" to stop thermal bridging at this point.
The most energy-efficient window glass available in the UK
Sunrise Windows use a high-quality low emissivity glass, which is part of a new generation of energy-saving window glass material, that uses advanced coatings to retain more internal warmth whilst capturing free energy from natural daylight. That means lower energy bills compared to standard windows.
Using the latest technology, low emissivity glass has a unique combination of metallic layers, which reflect heat back into the room, to keep heat within the building.
At the same time, it maximises the amount of natural light coming in.
As more heat is retained, it means less is required to warm up the home to the desired ambient temperature, in turn lowering energy consumption.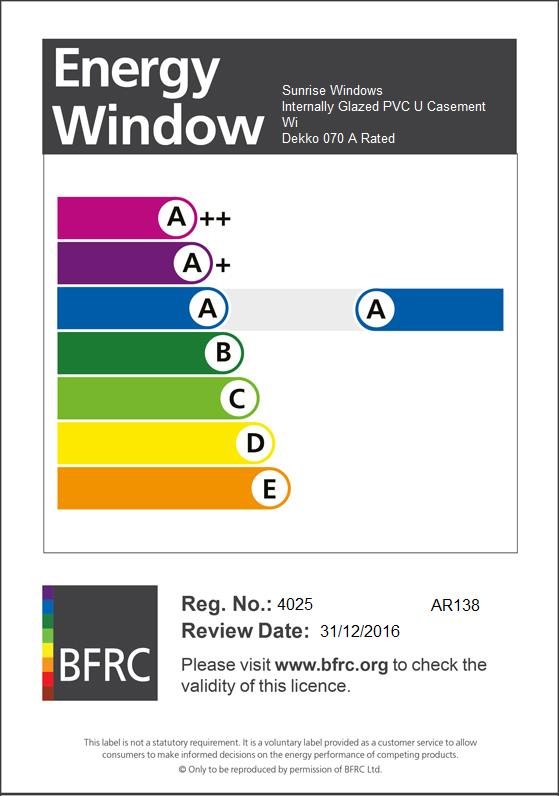 FOR MORE INFORMATION ABOUT OUR WINDOWS & DOORS CALL US TODAY ON 01752 339373